Two quadrupole ICP-MS to allow relevant trace and ultratrace elements to be determined in a broad range of sample media
The elements we currently analyze are shown below in blue (*only in water samples: **depending on the type of sample):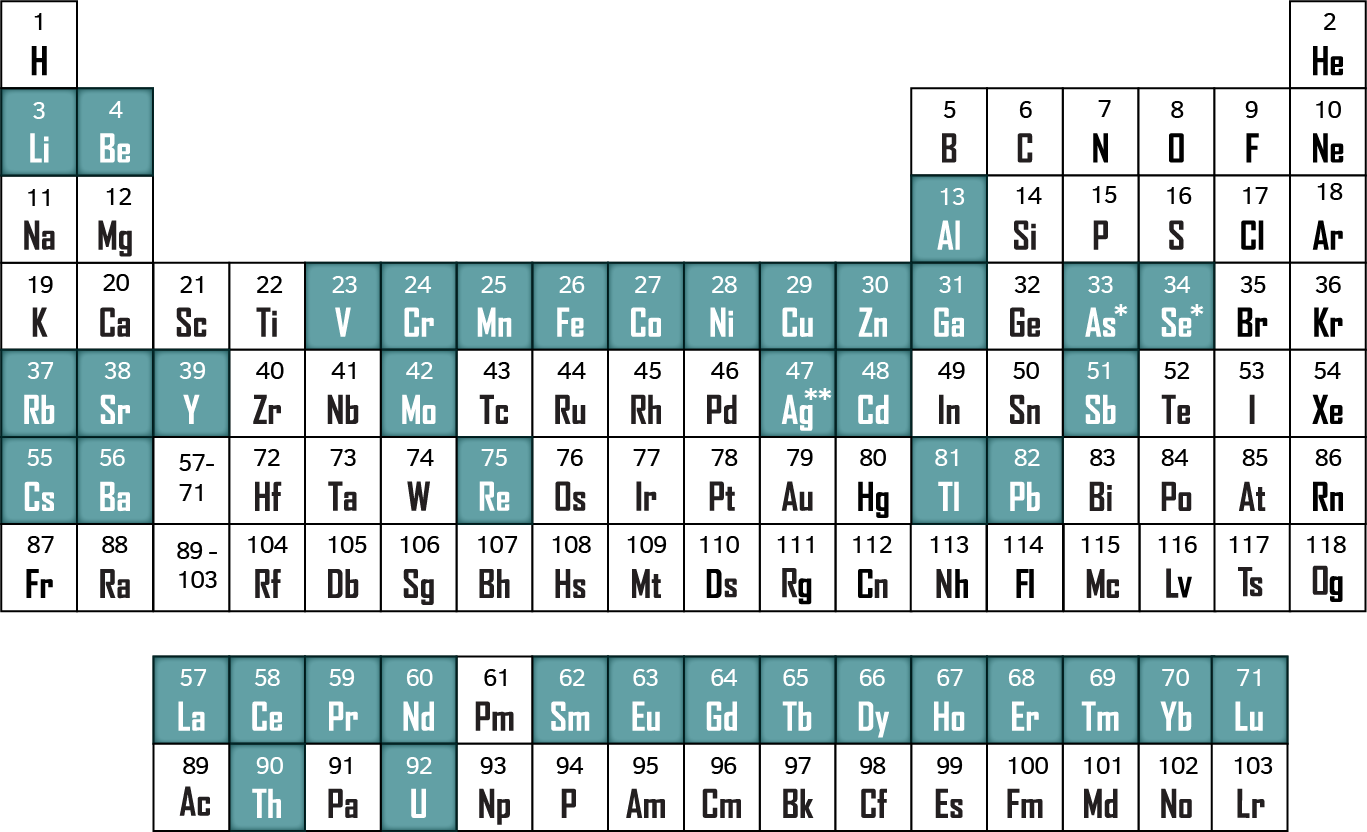 Our calibration solutions are in the range of 1 ppt to 10 ppb for most of the elements highlighted above, and up to 100 ppb for Mn, Fe, Cu, Zn, Ga, Sr, and Ba.
The samples must be in a ~2% HNO3 matrix in order to be analyzed.
Please note that if your element of interest does not appear highlighted above, or if you suspect the concentration of samples is even higher, you will need to contact an alternate lab for analysis.
FFFF separation technology coupled to the SF ICP-MS to provide size-resolved analyses of elements and Pb isotope ratios in particles, aerosols, and colloids
High-pressure autoclave for digesting solid samples, to allow elemental and isotopic analyses of soils, sediment, and plant materials, a sub-boiling distillation unit for the production of high-quality nitric acid (for the acid digestions), a cleaning system for leaching of sampling containers, and an ultrapure water system for dilution
Ultralow background gamma spectrometers for measuring radioactive isotopes, namely 7Be, 210Pb, 137Cs, 241Am, for age dating recent samples, and for studying chemical diagenesis.
While we do not offer this service on a regular basis, we will be happy to discuss the possibilities. Please direct your inquiries to Dr. Fiorella Barraza.
Sampling preparation
We offer digestion of solid samples with trace grade HNO3 sub-boiled twice (pseudototal concentration of trace elements) as well as other types of sample preparation (i.e. filtration of water samples).
These services may be provided depending on the availability of our staff. Contact us for more information.
Additional services
Consultancy: if you are not an expert in environmental sciences or if you are having issues trying to find the best method to analyze samples at low concentrations, the SWAMP lab team is willing to help. From analytical chemists to biogeochemists, our expert group of researchers has experience in the analysis of a wide variety of matrixes including food samples, human blood, and urine. Contacts us for more information
Please be aware that the SWAMP Laboratory is not a commercial lab. We will evaluate each client and situation and attempt to find the best solution to meet your expectations!
For a more detailed description of our facility please see here.